This holiday season is looking merry and bright for residents at Bradford Ecumenical Home, Inc. thanks to their new Cozy Cottage visits. The Cozy Cottage projects were launched as a means to provide residents an opportunity to visit loved ones while maintaining safe, social distancing and masking practices. Family and friends are able to schedule a 20 minute visit with their loved one in a warm, well-lit, cozy area that will be sanitized between visits. Plexiglas barriers enable residents and visitors to see each other while maintaining social distancing, proper masking, and responsibly abiding by cottage rules.
The Cozy Cottage project was funded though the generosity of the Philo and Sarah Blaisdell Foundation in honor of Howard Fesenmyer. Mr. Fesenmyer has been a Chapel Ridge resident for three years and was the first resident to use the Cozy Cottage to visit with friend and Executive Director of the Philo and Sarah Blaisdell Foundation, Ron Orris.
Mr. Fesenmyer and Mr. Orris enjoyed their first visit on Friday, December 11th. Bradford Ecumenical Home, Inc. staff is pleased to assist residents with future Cozy Cottage visits. Conveniently located just outside the entrance of each building, staff will escort residents to and from each visit. Appointments are scheduled in advance and can be made between 1-4 pm, seven days a week. Temperatures will be taken and COVID screenings of residents and visitors will be mandatory before every visit, along with hand sanitizing. Strict House Rules apply to ensure the health and safety of residents and visitors.
Currently, Chapel Ridge is offering two visitors per resident during a Cozy Cottage visit. Due to the increased community positivity rate, Bradford Ecumenical Home has not begun visitations. We appreciate everyone's diligence to practice proper masking, social distancing, frequent hand washing, and limit social gatherings to help prevent the spread of the coronavirus in hopes that our community positivity rate will decrease.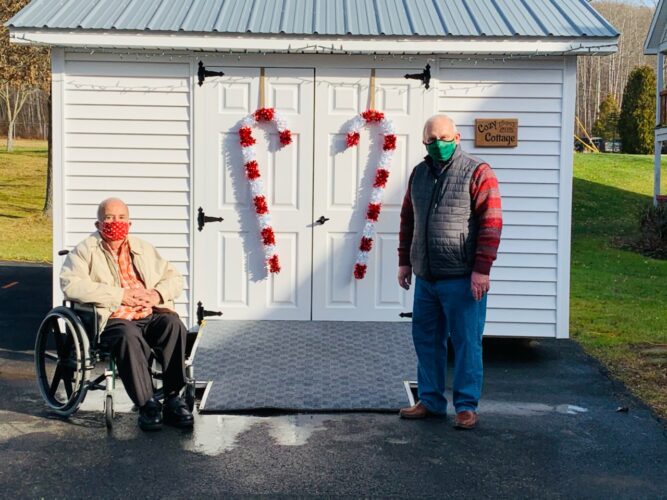 Chapel Ridge resident, Howard Fesenmyer (left) and Executive Director of the Philo and Sarah Blaisdell Foundation, Ron Orris (right) enjoyed the first Cozy Cottage visit on December 11th.